December 2020 Eclipse Festival of Frequency Measurement
December 2020 Eclipse Festival of Frequency Measurement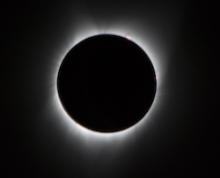 Wednesday, December 2, 2020 - 17:26
Monday, November 30, 2020 - 02:02
Submitted 1 year 8 months ago by
kd8oxt
.
The procedure page is up for December 2020 Eclipse Festival of Frequency Measurement is up! There will be 24-hour practice run on December 5. The main data recording will run from December 9-16.
Details of the experiment may be found here:
https://hamsci.org/december-2020-eclipse-festival-frequency-measurement
Interested operators should sign up at this link (https://forms.gle/C9PFSTeLf7xvCQDYA) or directly contact Kristina Collins at kd8oxt@case.edu.