HamSCI Workshop 2024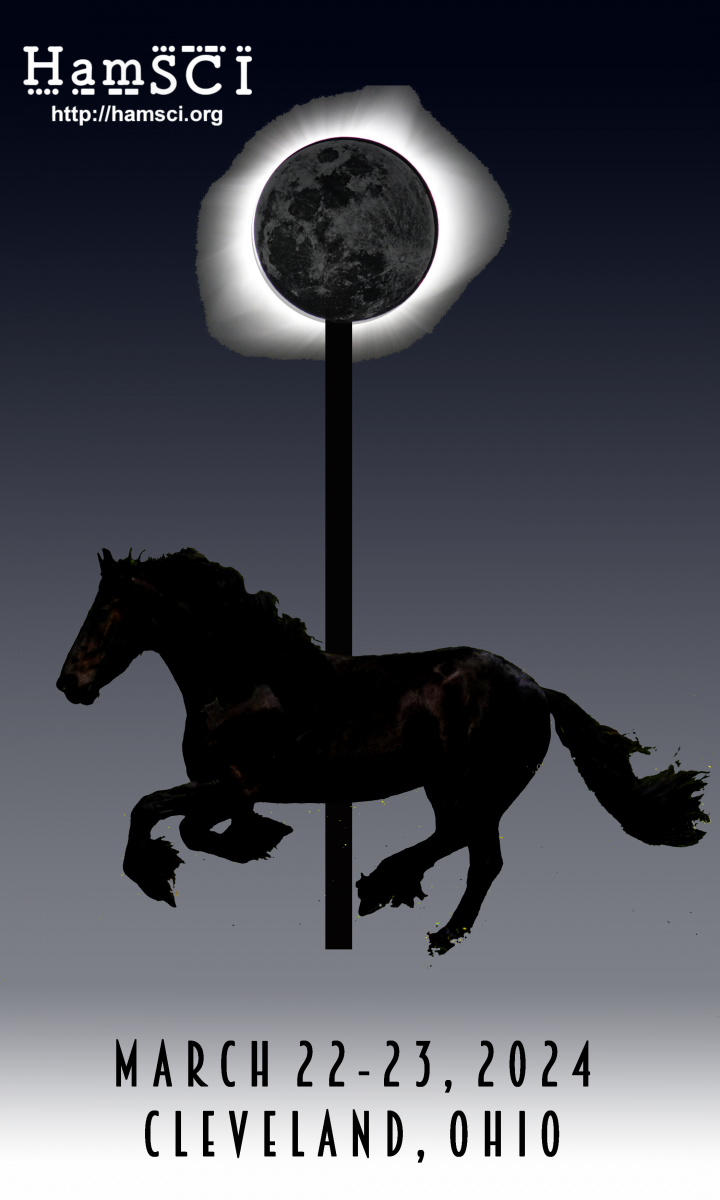 Come join HamSCI at its sixth annual workshop! The workshop will be held March 22-23, 2024 at Case Western Reserve University in Cleveland, OH and seeks to bring together the amateur radio community and professional scientists. Anyone interested in this workshop is invited to join.
The workshop will focus on the theme of Alignments - between the Sun, Moon and Earth; between collegiate amateur radio recreation and STEM curriculum; between data collection and analysis; between professional and citizen science. We are preparing for the solar eclipse of 8 April 2024, for which Cleveland will be in totality.
Cost and Registration
Friday Registration: TBD
Saturday Registration: TBD
Friday Banquet Ticket Only: TBD
We are especially looking for speakers with presentations showing analysis of ionospheric observations, ideas and proposals for the design of the Personal Space Weather Station and instrumentation for the 2024 eclipse. We will also accept other presentations related to amateur radio and science. Presentations will be in the form of oral talks, posters, lightning talks, and demo room tables. Abstract and acceptance and presentation format will be chosen by the Science Program Committee. If you would like to present, please submit your abstract at the link below by February 10, 2024. Presenters will be notified by March 1, 2024. Questions on abstracts should be directed to Nathaniel Frissell, W2NAF, at hamsci@hamsci.org. 
Check Back for Abstract Submission and Registration Details
Program
HamSCI's chief area of interest is the use of amateur radio techniques for the characterization and study of ionospheric phenomena such as traveling ionospheric disturbances, sporadic E, response to solar flares, geomagnetic storms, the 2024 total solar eclipse other space weather events. In order to facilitate this science, continued development of the HamSCI Personal Space Weather Station and discussion of integration of amateur radio into the collegiate curriculum will also take place. We will also accept presentations relating to amateur radio and science, particularly space and atmospheric science, space weather, and radio astronomy. 
Meeting Location and Parking
The Friday sessions and Saturday morning sessions will be held in Eldred Hall on the CWRU campus. The Friday evening banquet will be held at the Cleveland History Center. On Saturday afternoon, after lunch, the conference proceedings will continue at CWRU's think[box], a student manufacturing facility and makerspace that is open to the public. Attendees will participate in tours of think[box] facilities; tours of the Case Amateur Radio Club, W8EDU; and an amateur radio licensing session. There will also betime available for breakout sessions and committee discussions. The conference will close on Saturday evening with a screening of Frequency at CWRU Film Society. Tickets to the film are complimentary with a conference badge.
Paid parking is available near each venue. Near Eldred, participants are advised to park in the Veale Garage. Parking for the History Center is available behind the building.  When visiting think[box] and the other destinations on the Case quad (W8EDU, Film Society), attendees may park in the Veale Garage and enter think[box] through Veale Center.
Breakfasts, Lunches, and Friday Banquet
Breakfasts, lunches, and coffee breaks are included with registration for both Friday and Saturday. Special dietary needs can be specified when registering.
The Friday Banquet Dinner will be hosted at the Cleveland History Center. Banquet tickets are included with Friday registration. Separate/additional banquet tickets may be purchased as needed. 
Lodging
A block of hotel rooms has been reserved at the Cleveland Courtyard by Marriott. Other nearby hotel options include Glidden House and the Tudor Arms Hotel, both within walking distance of the conference.
Flight Information and Ground Transportation
Easy access to CWRU and the HamSCI meeting is available through the RTA Red Line, which connects directly to Cleveland Hopkins International Airport. If coming from the airport, take the Red Line to the University Circle station (quad) or Little Italy station (Marriott).
Talk-In Frequencies
Every party should have a call-in frequency; if you have an HT, check in en route to ask directions or say hello.
Primary Simplex: 146.55 MHz
Secondary Simplex: 432.10 MHz
Repeater: KD8LDE/R 442.28750 MHz + 131.8 Hz
Local Organizing Committee
Mr. Nathaniel Vishner, KB1QHX, Chair
Mr. Matthew Canel, KE8NZR
Dr. Kristina Collins, KD8OXT
Mr. John Gibbons, N8OBJ
Dr. David Kazdan, AD8Y, Advisor
Mr. Gary Mikitin, AF8A
Science/Program Committee
Dr. Nathaniel Frissell, W2NAF, Chair, The University of Scranton (Assistant Professor)
Dr. Kristina Collins, KD8OXT, Space Science Institute
Mr. Jesse Alexander WB2IFS, NRAO
Ms. Rachel Boedicker AC8XY, Case Western Reserve University
Dr. Gareth Perry, KD2SAK, New Jersey Institute of Technology
Mr. Bill Liles, NQ6Z, HamSCI Community (Diversity Recruitment Chair)
Dr. Phil Erickson, W1PJE, MIT Haystack Observatory (Haystack Associate Director)
Mr. Gary Mikitin, AF8A
Questions?
If you have questions, please e-mail hamsci@hamsci.org. Logistics questions will be directed to Nathaniel Vishner KB1QHX (216-368-4580) and science/program questions will be directed to Nathaniel Frissell, W2NAF (973-787-4506).
---
The 2019 HamSCI Workshop is hosted by Case Western Reserve University in collaboration with the University of Scranton.