Hamvention 2023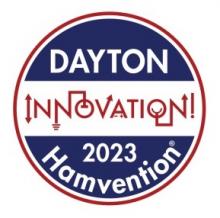 Friday, March 31, 2023 - 14:46
Tuesday, March 7, 2023 - 11:06
Submitted 3 weeks 4 days ago by
af8a
.
HamSCI will be playing a major role at the 2023 Dayton Hamvention.  It will be held in Xenia, Ohio May 19-21, 2023 at the Greene County Fairgrounds.  It is the world's largest ham radio gathering, having over 30,000 attendees in 2022. The Hamvention, sponsored by the Dayton Amateur Radio Association (DARA), is an extremely important event for engaging with the amateur radio community, sharing ideas, developing collaborations, and sharing scientific results. The Hamvention 2023 theme is Innovation!, an excellent fit for HamSCI's goals.  This year, HamSCI anticipates hosting a booth (building 5, next to TAPR), giving presentations in the Ham Radio 2.0 area, and hosting the HamSCI Forum.  Support for the 2023 HamSCI Hamvention activities comes from The University of Scranton, the Yasme Foundation, TAPR, the National Science Foundation, NASA, and volunteers like you. 
HamSCI Presentations
Members of HamSCI will be speaking and taking questions at various forums through Hamvention.  Consult the links below, your Hamvention program or  Hamvention phone app for details on how and where to attend.
Date & Time
Sponsor/Venue
Title
Presenter(s)
Organization
Home QTH(s)
Thursday, May 18th
1:00 PM
Contest University

Contesting for Ionospheric Science During the 2023 and 2024 North American Solar Eclipses

Nathaniel Frissell
W2NAF

Scranton, PA

Thursday, May 18th
8:00 PM
FlexRadio Banquet

HamSCI, The Personal Space Weather Station and the 2023 and 2024 North American Solar Eclipses

Nathaniel Frissell
W2NAF

Scranton, PA

Friday, May 19th
12:00 PM

Hamvention Innovation Forum

From Boy Scout to HamSCI Lead - W2NAF's Innovation Journey

Nathaniel Frissell
W2NAF

Scranton, PA

Friday, May 19th
Time TBD
Hamvention Antenna Forum

HamSCI Festivals of Eclipse Ionospheric Science

Nathaniel Frissell
W2NAF

Scranton, PA

Saturday, May 20th
2:50 PM




Forum

Solar Eclipse QSO Parties and More: Contesters and HF Operators Wanted!

Gary Mikitin AF8A
Rachel Boedicker AC8XY

Cleveland, OH




Cleveland, OH

Saturday, May 20th
3:10 PM


Forum

Personal Space Weather Station

Scotty Cowling W2DFI
John Gibbons N8OBJ
Dave Witten KD0EAG
TAPR
CWRU

Phoenix, AZ
Cleveland, OH
Columbia, MO
Saturday, May 20th
3:30 PM



Forum

Large Scale Traveling Ionospheric Disturbance (LSTID) Research Results

Diego Sanchez KD2RLM
Mary Lou West KC2NMC
NJIT
Montclair State University
Nutley, NJ
Montclair, NJ
HamSCI Booth - 2022