WWV Centennial Festival of Frequency Measurements
WWV Centennial Festival of Frequency Measurements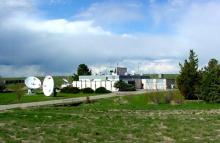 Friday, September 20, 2019 - 16:06
Friday, September 20, 2019 - 16:05
Submitted 4 years 1 day ago by
w2naf
.
HamSCI and the Case Amateur Radio Club W8EDU is sponsoring a distributed experiment during the WWV 100th anniversary celebrations.  The Festival of Frequency Measurement invites all interested to record WWV's 5 MHz carrier for the UTC day 1 October 2019--and then to upload the resulting data file.  Amateur radio operators, shortwave listeners, physics laboratories, and anyone else with a radio receiver and computer may participate.
The data will be collated into a study of one day in the life of the ionosphere.  Maybe that day will mark a solar storm and an actively changing ionosphere; maybe it will only have the basic daily rhythm of sunup and sunset shaping the layers.  We will find out!  This is a study in the function of personal space weather stations and will be extended into future work.
Instructions for setting up the fldigi frequency analysis software and for participating in the Festival may be found on the HamSCI Festival of Frequency Measurement Page.
We recommend that you practice recording the files and renaming them for upload a few times before the event.  Note that 1 October 2019 UTC will begin Monday evening in the Americas.