HamSCI Eclipse Team Meets in Dayton
HamSCI Eclipse Team Meets in Dayton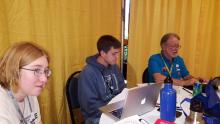 Wednesday, May 25, 2016 - 15:13
Tuesday, May 24, 2016 - 14:07
Submitted 6 years 8 months ago by
w2naf
.
Researchers and HamSCI volunteers meet at the 2016 Dayton Hamvention to plan the 2017 Solar Eclipse QSO Party. (Left to Right) Magda Moses KM4EGE, Nathaniel Frissell W2NAF, Ward Silver N0AX. Photo by Bob McGwier N4HY.
---
Members of the HamSCI Eclipse team met at the 2016 Dayton Hamvention to discuss upcoming activities and experiments pertaining to the 2017 US Total Solar Eclipse. This total solar eclipse will take place on August 21, 2017, with totality beginning in Oregon, traversing southeastward, then leaving the United States in South Carolina.  The lunar shadow is expected to have a dramatic effect on ionospheric conditions and HF propagation. HamSCI researchers are looking to understand the spatial and temporal effects of the eclipse on the ionosphere.
On Saturday afternoon, Researchers from Virginia Tech and the New Jersey Institute of Technology met with ARRL contributing members to plan the 2017 Solar Eclipse QSO Party (SEQP). The SEQP will be a contest-like operating event designed to generate substantial activity across the high frequency amateur radio bands in the hours before, during, and after the total solar eclipse. After the event, QSO Party Logs, recordings, and Reverse Beacon Network spots will be used to address target science questions. Once finalized, official SEQP rules will be published here and in QST.
The study of the ionospheric effects of the 2017 Total Solar Eclipse is in part made possible through a National Science Foundation grant, led by principal investigator Virginia Tech Professor Gregory Earle, W4GDE.
2016 Dayton SEQP Planning Team:
Nathaniel Frissell, W2NAF (New Jersey Institute of Technology)
Bob McGwier, N4HY (Virginia Tech)
Magda Moses, KM4EGE (Virginia Tech)
Xiaoyu (Harry) Han, KM4ICI (Virginia Tech)
Ward Silver, N0AX (ARRL Contributing Member)
Carl Luetzelschwab, K9LA (ARRL Contributing Member)
Vicki Luetzelschwab, AE9YL (ARRL Contributing Member)
Sam Rose, KC2LRC (ARRL Contributing Member)