Field Day - CASSIOPE 2015 Results Published in Radio Science
Field Day - CASSIOPE 2015 Results Published in Radio Science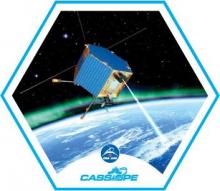 Friday, July 13, 2018 - 16:10
Friday, July 13, 2018 - 16:09
Submitted 4 years 10 months ago by
w2naf
.
The results of the 2015 CASSIOPE ePOP - Field Day experiments have been published in the peer-reviewed American Geophysical Union journal Radio Science as "Citizen radio science: an analysis of Amateur Radio transmissions with e‐POP RRI" by Dr. Gareth Perry et al. From the plain language summary:
We report the results of an experiment in which we used a satellite‐based radio receiver to eavesdrop on Ham radio communications as the satellite passed over the United States. We identified 14 Ham radio users by their call signs, and used this information to determine their location during the experiment. We were able to identify unique signatures in the Hams' signals that are directly related to the nature of the how the Hams' radio waves traveled through the Earth's ionosphere up to the satellite. Furthermore, we used our knowledge of the position of the spacecraft, and the location of the Hams and their broadcast frequencies to deduce the structure of the Earth's ionosphere over the United States during the experiment. This experiment and its results show that Ham radio transmissions and Hams (amateur radio operators) can be valuable assets in determining the structure of the ionosphere over large geographic regions.
The version of record is available from https://doi.org/10.1029/2017RS006496. A free pre-print is available from http://hamsci.org/sites/default/files/publications/Perryetal_HamRadio_20....