SEQP Today!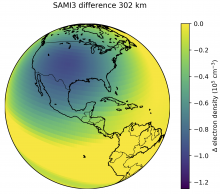 Monday, August 21, 2017 - 08:58
Monday, August 21, 2017 - 08:44
Submitted 1 year 4 months ago by
w2naf
.
Figure: Model prediction of the eclipse at 302 km altitude on 21 August 2017 1815 UT, showing the modeled difference in electron density between the eclipse day and a normal day. Model results were create by J. Huba and D. Drob using the Naval Research Laboratory SAMI3 model. This figure is prepare by J. Vega and N. Frissell of NJIT. Published results are available in Geophysical Research Letters. Full text copies may be availble through your library.
Expected Operating Conditions
In just a few short hours both the Great American Eclipse and the SEQP will begin. Over 1300 stations have pre-registered, so activity levels are expected to be high. After a geomagnetically unsettled weekend, the solar activity appears to have calmed down. NOAA SWPC predicts this situation to continue today, with less than 1% chance of a major radio blackout, less than 1% chance of an S1 or greater Solar Radiation Storm, and no geomagnetic storm impacts. As such, propagation conditions should be good for HF radio operations.
Predictions and Operating Advice
It is expected that the shadow of the eclipse will cause a decrease in ionospheric electron density, strongest in the region of totality. Within this region, conditions will be most similar to night, and therefore lower band propagation should be enhanced because of a decrease in ionospheric absorption, while high band propagation should degrade due to a less dense ionosphere. SEQP operators are encouraged to follow the SEQP Rules and maximize their score and time on the air. The SEQP rules have been written to encourage many QSOs across many propagation paths. This should lead to a large dataset generated by the RBN, PSKReporter, WSPRNet, and participant submitted logs. All of these will be studied after the event to look for eclipse-induced ionospheric effects.
Log Submission
After the SEQP, please submit your logs at hamsci.org/seqp. Links to the submission pages will be posted by the end of the SEQP. A PDF Certificate of Participation will be generated for each submitted log.
Other Experiments
In addition to the SEQP, there are many other radio science experiments that you may participate in. This includes the Eclipse Frequency Measurement Test, Wideband Recording, operation of RBN and other automated receive nodes, EclipseMob VLF experiment, and the AM Broadcast Receive experiment. Please see hamsci.org/eclipse-get-involved for details.