Harvard Amateur Radio Conference
Harvard Amateur Radio Conference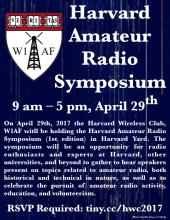 Tuesday, April 25, 2017 - 09:53
Tuesday, April 25, 2017 - 09:52
Submitted 1 year 7 months ago by
w2naf
.
View Original Eventbrite Article
Organized by the Harvard Wireless Club, W1AF
On April 29th, 2017 the Harvard Amateur Radio Symposium (1st edition) will be held in historic Harvard Yard at the center of Harvard University. The symposium will be an opportunity for radio enthusiasts and experts at Harvard, other universities, and beyond to gather to hear speakers present on topics related to amateur radio, both historical and technical in nature. The symposium is being put on by the Harvard Wireless Club, W1AF (HWC), a Harvard owned, run, and sponsored amateur radio society dedicated to the pursuit of amateur radio activity, education, and volunteerism. The HWC has decided to hold this symposium as a means of celebrating our interest in amateur radio as well as to encourage and promote the continuation of the use of amateur radio in the future.
Speakers:
Tom Gallagher, NY2RF

CEO, American Radio Relay League (ARRL)

Paul Horowitz, W1HFA

Author, The Art of Electronics; Founder, SETI

James Surprenant, AB1DQ

1st Vice President, Yale University ARC, W1YU

Flávio Jorge, CT7AQK

Department of Electronics, University of Aveiro, Portugal

Fred Hopengarten, K1VR

General Counsel, Harvard Wireless Club

Cambridge Univ. Wireless Society
Parking permits can be purchased here.